Passionate Disney fan Kathleen lives in a tiny house with a downstairs bedroom. The design and decor theme comes Beauty and the Beast. Like her favorite character, Belle, she loves reading, adventure, and simple pleasures. Her tiny house is vibrant blue with white trim—a nod to Belle's blue provincial dress with a white apron.
How Belle Connects to Kathleen's tiny home lifestyle:
"My theme is Belle from Beauty and the Beast. I first saw the movie when I was five, and I was captivated by that movie. And I am also a travel agent that specializes, and one of them is Disney Travel.

Belle has always been my favorite character. She loves books. She wants adventure. She was one of the first princesses that didn't need a man, didn't want a man. That's not what she wanted. She just wanted to go out and explore and go out and be her own person.

And I always admired that pretty much she just accidentally got married at the end of the movie. But she wanted adventure in her life.

So I like to think my theme of Belle if she never met the beast, but she was able to still go out there and have her own adventure. And this is her tiny house. This is the tiny house she took traveling around the world because that's what she wanted to do. She wanted to go see adventure.

I love traveling myself, and I feel like actually living in a tiny house really supports that type of lifestyle."

-Kathleen, @singingkatlol
Inside Her Tiny House with a Downstairs Bedroom
Kathleen's "Tiny Belle House" is 240 square feet in total—28 feet long and 8.5 feet wide. She chose the Athena model built by
Decathlon Tiny Homes
, which s
he customized a bit.
With all of her upgrades and sales tax, her tiny house cost $85,000. Importantly, Kathleen feels like she got a lot of bang for her buck, especially with all the high-quality finishing details. She luckily qualified for a tiny home loan through Liberty Bank—a 15-year term with a 6.5% interest.
You cannot miss the Beauty and the Beast decor nods throughout her tiny home, from her lighting fixtures to artwork and, of course, a rose in a glass dome. Unlike many other tiny homes, Kathleen's house interior lacks big windows. This is intentional. When planning her build with Decathalon, the Texas heat came up. Kathleen decided to go with small windows to reduce heat transfer into her little abode. With the help of her beefy mini-split AC, it stays pretty artic cool in the hot months.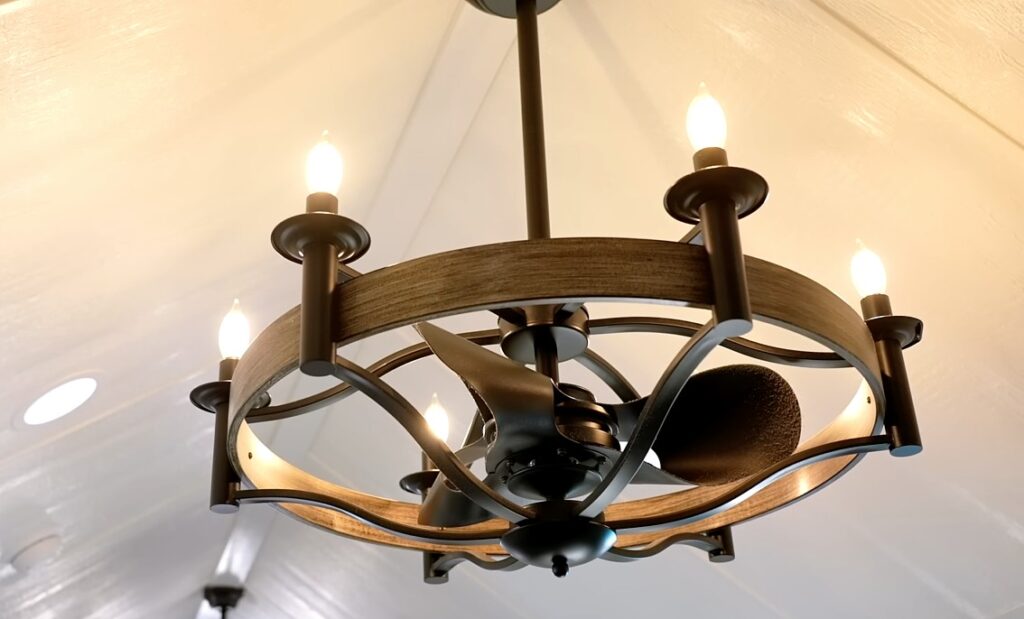 Usually, in any Decathlon tiny home, they put an insert induction cooktop. But Kathleen opted for open counters pace. Instead, she has two movable plug-in induction cooktops stored in a drawer when not in use. Additionally, she has a convection microwave, and after much research, Kathleen chose a multifunctional Ninja Foodie oven—airy fries, roasts, broils & bakes. When not using it, she can fold it away to open up her counter.
Just like Belle, Kathleen is a book lover. So, she prioritized book storage. To help prevent overdoing her collection, she has a great rotation system. When done with books, Kathleen sells them back to a used bookstore or donates them. Then she has room for her next must-read finds!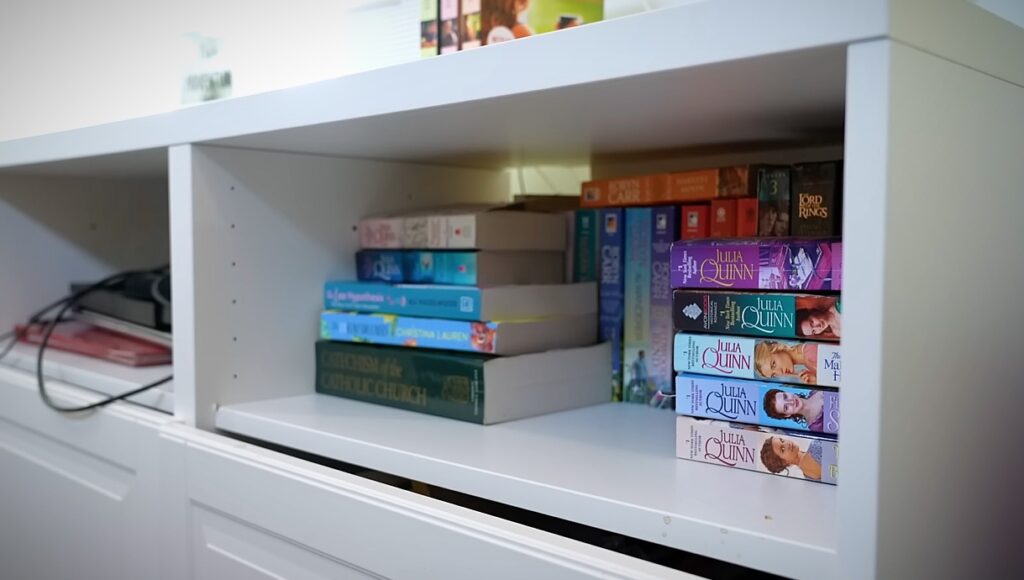 Kathleen enjoys having a downstairs bedroom due to back problems. So, she planned the room around an adjustable bed. It can fold and be adjusted in multiple ways to help her get comfortable and to elevate her feet. Also, to solve the problem of making a bed that she can't walk around, Kathleen uses Beddy's. It's basically a glorified sleeping bag. All you have to do is zip it up instead of tuck in the sheets.
Watch the full tour of Kathleen's tiny house!