Cathy built a tiny home to live life on her own terms as she nears retirement. First steps: ditch her now ex-husband and a corporate job. As a result, tiny house living cemented a personal paradigm shift. Cathy's perspective on money has completely shifted. She now works a part-time job that brings her joy, the kind of work that doesn't come home with her. And when Cathy wants to take off for a month to go adventuring, she does—the benefits of reduced housing expenses.
"In the two years I've lived in it, I've never felt so much freedom to be able to do the things I want and not have the relationship with money I used to…I decluttered my life, decluttered my stuff, and got rid of my husband. I'm in a great place, and feel that this is the thing that made it happen for me."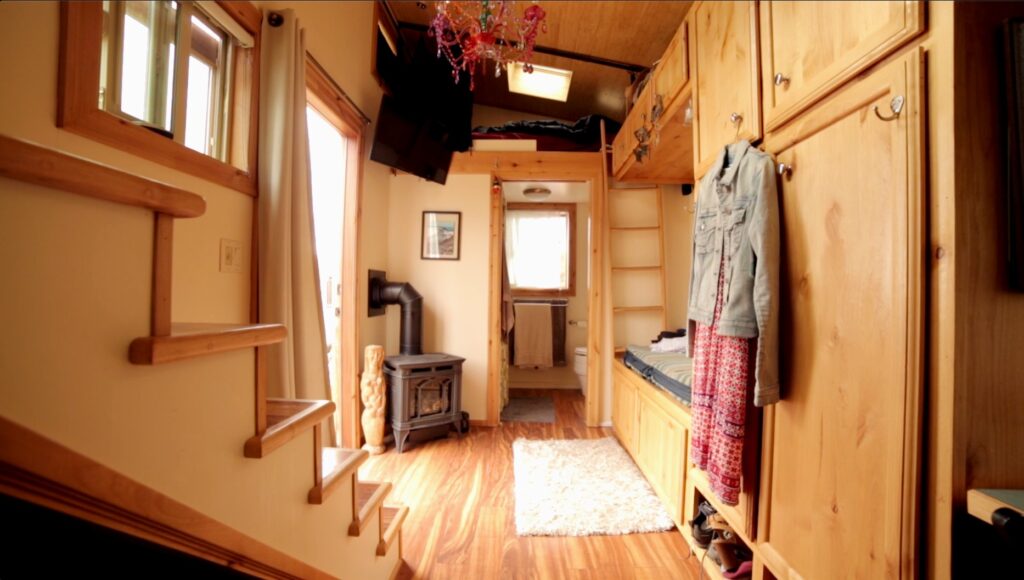 Her 24′ tiny house on wheels is based on the 28′ hOMe design by Gabriella & Andrew Morrison before they debuted their 24′ plans. Cathy hired a residential contractor to build it custom for her and to code as much as possible. Like any tiny home build, she is still perfecting details to best suit her needs and for convenience. 
Unfortunately, Cathy's new lifestyle hasn't been without its challenges. While parked on two different Central Oregon farms,  cranky neighbors reported her tiny house to the county. This resulted in the need to relocate twice. But this is in no way deters her from tiny house living. She realizes it's only a matter of time before zoning laws catch up. However, Cathy cautions living in a tiny house on wheels isn't for the faint of heart. Look up your parking options ahead of time, especially legal ones.