Klickitat Treehouse is an extraordinary alpine modern tiny house fully supported by large fir trees in White Salmon, Washington. Spending the night there is absolutely magical!
During our stay there, every window view reminded me that we were suspended in the trees, an intimate nature experience that is surprisingly soothing. Upscale decor elements enthralled my grown-up tiny home design lover. But all the while my inner child also jumped for joy at this enchanting adventure. Perhaps the cherry on top was waking up to a sunrise view over Mt. Adams in an incredibly comfy bed. Ultimately, we left truly feeling like we crossed something off our bucket list.
Airbnb Superhosts Taryn and Colin love sharing their 16-acre woodland sanctuary with guests. By building their stunning treehouse, they have not only fulfilled their own lifelong dream. Further, they relish helping others cross "treehouse stay" off their epic bucket lists! Importantly, along the way hosting has helped turn a dream project into reality. Airbnb enables Taryn and Colin to make income from their passions—a dream come true.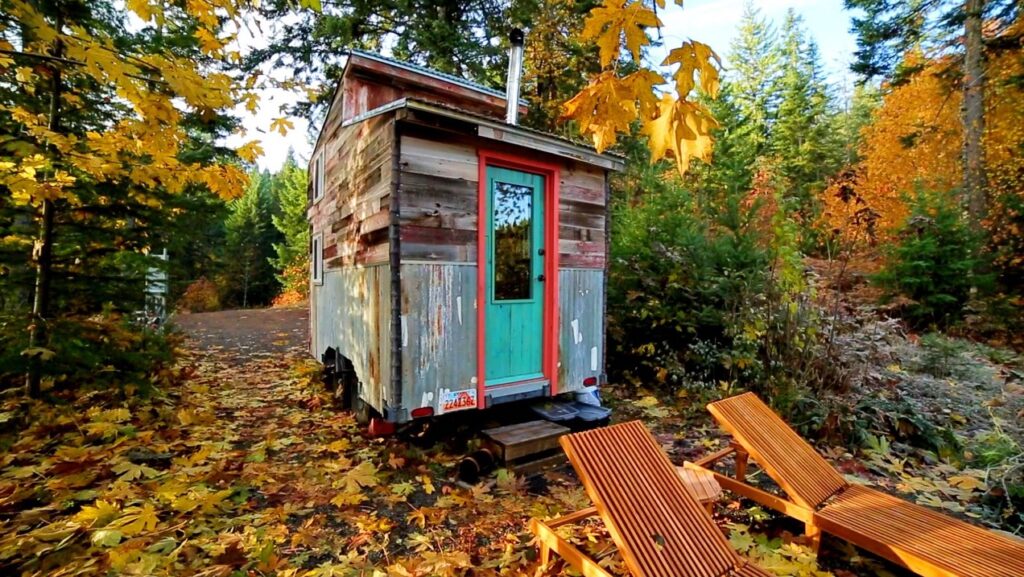 First, during frequent camping trips, they started renting out their Portland bungalow on Airbnb and put those earnings toward the treehouse build. Next, they bought a rustic, handcrafted tiny house on wheels. They moved to the White Salmon property, which served as both their home base during the build and another income source when they weren't in it. Within a year, their Cedar Shack tiny house Airbnb was paid off.
Book a stay at both the Klickitat Treehouse and Cedar Shack tiny house for a truly memorable experience immersed in nature. Each features incredible views of Mt. Adams and giant surrounding trees. Additionally, enjoy the on-site trail system, fire pits, and decks spread across the property. This is pure woodland magic.
by Alexis Stephens, Tiny House Blog Contributor & Tiny House Expedition Cofounder