Jess and Shawn researched, saved, planned, and planned before building out their gorgeous and amazingly livable van tiny home, a Ram Promaster 3500 van conversion. The process took eight months of weekend building. During the design/build phase, they prioritized creating a fully functional tiny home. So that meant maximizing every centimeter to allow room for a bathroom, complete with a shower and composting toilet. Unlike larger homes on wheels, they have to move the toilet when showering. This is an inconvenience they're willing to take on because of what their nomadic lifestyle opens up for them—freedom to live life on their own terms, outdoor adventure, and new friends.
Another top feature of their DIY van tiny home is an insulated cab that helps to keep their entire space cool, especially important for their pets—two chihuahuas and a cat. Their spacious closet with easily accessible hanging space is true luxury in a compact 2019 Ram Promaster 3500 van conversion or any tiny house for that matter.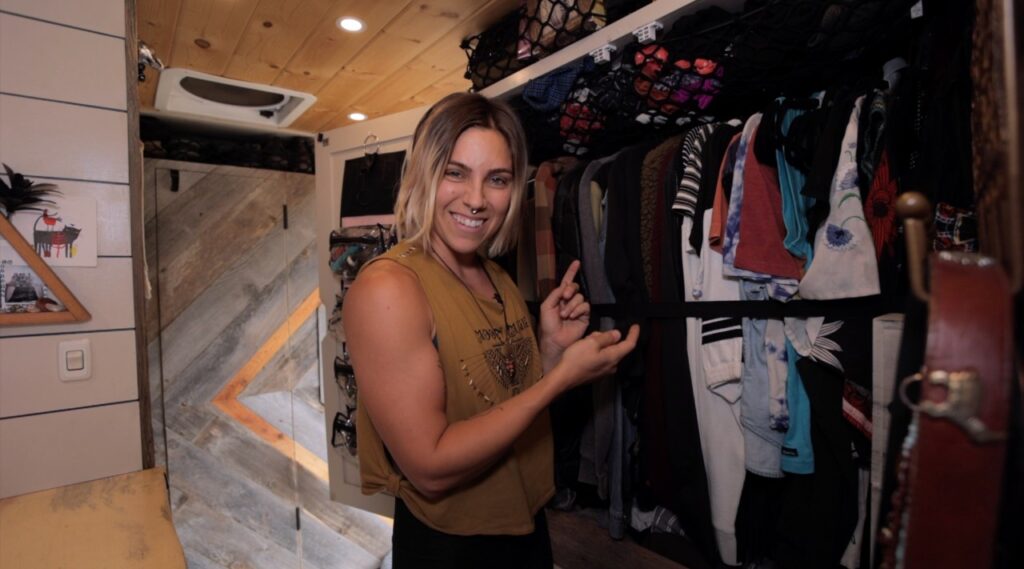 Further, they prioritized other creature comforts, like having a seating area for relaxing and hosting friends over for dinner. Of course, they had to get extra creative to make this happen. For instance, they created a custom Murphy bed that folds up to reveal the living area.
In addition to their $15,000 build cost, they pay a $400 per month van payment. Their total cost of living is about $2,000 monthly, including insurance for their vehicle and belongings. Unlike other nomads, they don't currently work on the road. They lived in their van and worked for six months in one place to save up for their nomadic life, putting away as much as they could. Now, they live nomadically full-time with their two dogs and cat, going from one rock climbing locale to another.