Have you ever considered turning a garage into a living space? Digs Co did just that. This husband and wife team created a garage conversion tiny house vacation rental. It's a charming modern living space with quirky decor and fun features. For example, they installed netted lounge space, aka a Bird's Nest, above the kitchen area with a miniature train track that chugs around it. Although, it's not just kitschy because it's actually a very comfortable and functional house, too.
The ShinDigs rental is a 550-square-foot foundation-based tiny house made from an old detached garage. For many, that is an excellent size for a long-term home for a couple or even a family. With a few tweaks, it could go from Airbnb charm to a fully-functional living space.
Garage Conversion Tiny House Airbnb to Full-Time Home
There are lots of ideas to turn this Airbnb into a wonderfully livable full-time tiny home. Storage solutions, for example, is what make the place really functional. Right away, we noticed that you need a place to store clothes, coats, and linens. The utility closet offers a prime opportunity. Currently, it only houses a giant water heater. So we think you could switch it out for a tankless water heater that could be mounted in a few other places to free it up to be used as a fully functioning closet.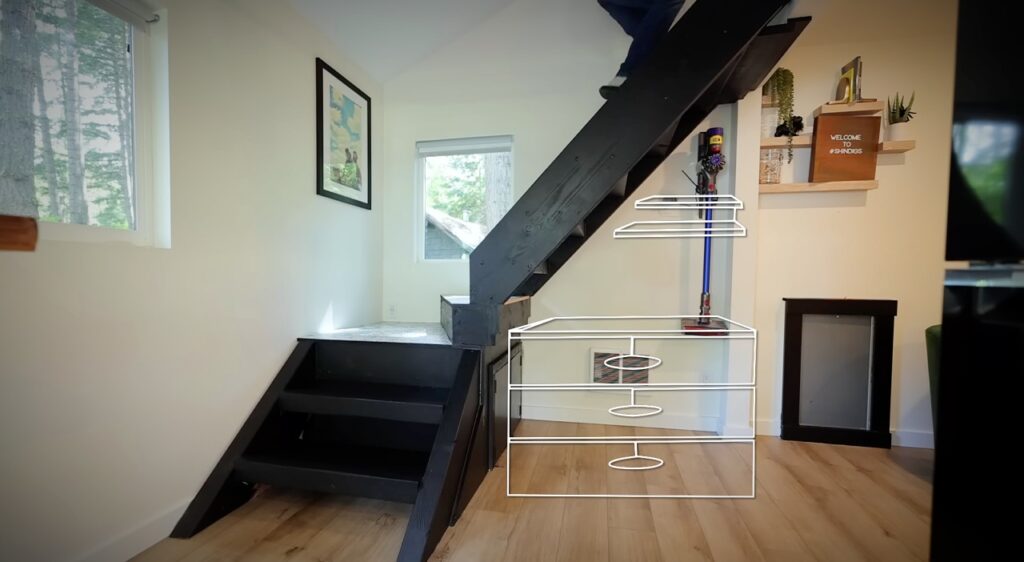 Underneath the stairs could also be renovated to add more functionality. Currently, it's a lovely open-concept staircase. Being able to see through it makes the space feel bigger. But if you live here full-time, you could use that as storage space. For example, you could put a washer/dryer combo unit under there. You could also make it into drawers for pantry space. Then above those, you could add open shelving to keep some openness and maintain how nice it feels from one room to the next because you always want to avoid closing off a space too much.
Watch the tour for more ideas on how you could easily turn this garage conversion tiny house Airbnb into a functional home!