The Eusebes downsized into a family-size tiny house as a lifestyle reset. More quality time together was a top goal. After selling their 2500 square foot house, they said goodbye to their mortgage and hello to adventure! They created a five-year plan to live in five states over the next five years.
When planning for tiny living, they would tape out different tiny home layouts in their big house to ensure they could comfortably accommodate their family of four. They chose the Mint Tiny Homes' 38-foot Canada Gooseneck model. Its floorplan best matched all their needs.
The Eusebes, aka the Living the Tiny Dream family, downsized into a tiny house wonderfully suited for family life. At 350-square-foot model, it accommodates their work-from-home and homeschooling needs. For instance, Stephan's standing desk easily fits downstairs between the living room and kitchen. It's on wheels, so they can roll into the living area to use a dining table.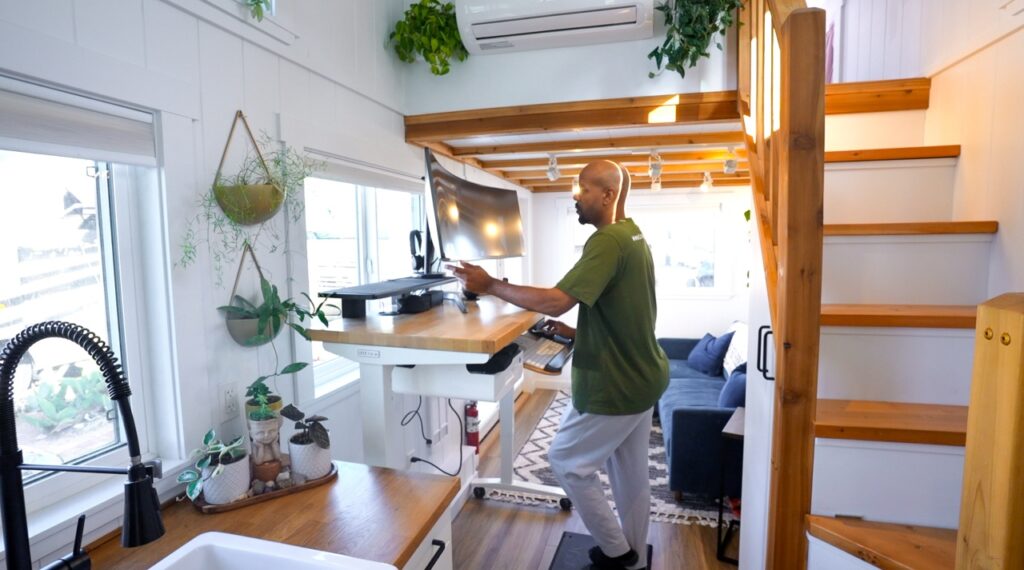 Bedrooms
Their family-size tiny home features two lofts. One acts as a classroom/playroom, and the other serves as a bedroom. It's divided, so Sanaa and Simeon can enjoy semi-private space on either side. In the future, they can each have their own completely separate loft bedroom.
Parents Sabine and Stephan have a completely private standing-height bedroom in the gooseneck area. They created a multifunctional closet with hanging space and drawers. Impressively, it doubles as a compact desk space. A pull-out desktop was installed on top of the drawers.
A spacious kitchen and bathroom round out this family-size tiny house design so well-rounded. From a stackable washer/dryer to a large apartment-size fridge, the Eusebes are well-equipped to handle the demands of daily life.
Watch their family-size tiny house tour!
After selling practically everything they owned, the Living the Tiny Dream family hit the road with their car and a five-by-eight cargo trailer. They moved from Massachusetts to California to pick up their new home. Then, they parked their tiny house in the Central Valley, where Sabine secured my first nursing travel contract.
Fortunately, she has a flexible schedule, so she can spend every other week at home, teaching & adventuring with the kids. Stephan works from home and leads homeschooling instruction when Sabine works.
Sabine & Stephan's perspective on "roadschooling" their kids:
"We have a five-year plan, five years, five states. That means for the kids, they're kind of like military kids in the sense that you're moving a lot. But for them, they're able to make friends quickly and deal with long-distance friendships.

So, I think it builds resilience. And then, they learn about people from different backgrounds, and they get to build those relationships.

When we grew up, we grew up in a classroom setting. And most of the time, all you knew was those four walls. They're in a setting where they're learning stuff. And they're actually seeing it. So whether we're learning about geography today or math, it's a lot more hands-on. And we get to practice things outside of the classroom that relate to real life or why you might want to retain this knowledge."

-Sabine & Stephan, @LivingTheTinyDream