A talented couple's inventive tiny home with a downstairs bedroom is their ticket to less stress and less debt! Empty nesters, Traci and Matt, are both carpenters by trade. Matt led the framing, and Traci did everything else. The result is a wonderfully custom 10′ wide tiny house with a downstairs bedroom, a true master suite. Inventive built-in his and hers closets create generous storage without sacrificing precious floor space. 
In the future, Traci plans to perfect the bedroom by adding a murphy bed. This will create an open area for yoga and dance parties.
But perhaps the most inventive aspect of this tiny home is a triple set of pocket doors. Open them in various space-efficient configurations to access the bathroom while maintaining bedroom privacy and an open layout.
Watch the full tour of this brilliant tiny home with a downstairs bedroom to see the pocket door system in-action!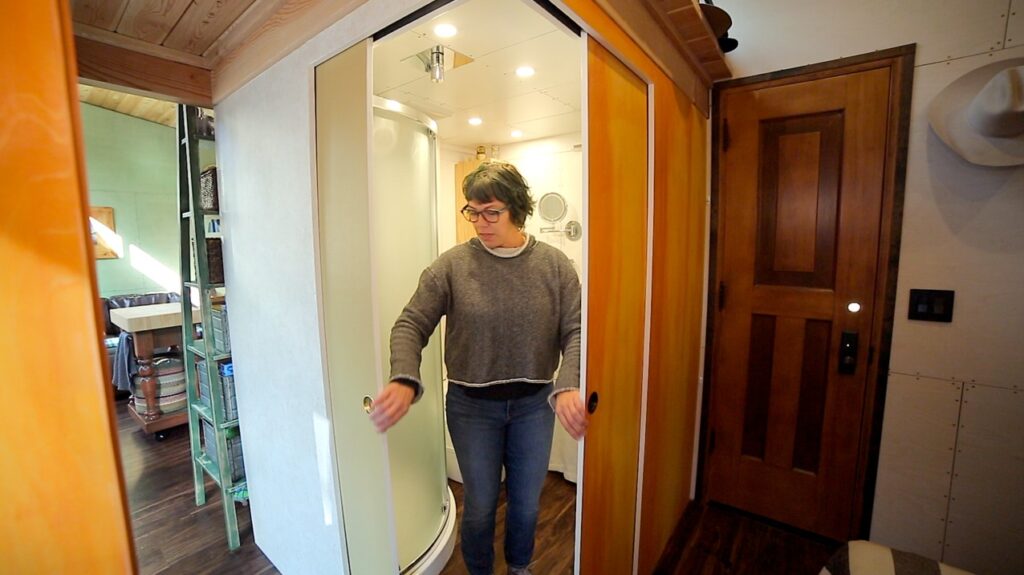 Traci loves entertaining guests, so she designed their tiny home to maximize flow. Two doors on the front of the house enable visitors to easily walk through space without getting trapped.These open up to a lovely tiered deck, and in between the doors is a huge dreamy window that opens from the outside. Live-edge counters on either side provide a social dining area.
When the kids left home, Traci and Matt were looking for opportunities to simplify their lives. They ultimately decided to build a tiny house on wheels in their backyard. However, they weren't ready to sell the small house they raised their family in. So, they now rent it out, relieving them of a costly monthly expense. No more mortgage!
With their personal build complete, Traci has now launched her own company in Tacoma, Washington.
As she puts it, tiny house building feels like a calling, combining her custom carpentry skillset with her love for small spaces. Contact Big Bliss Tiny Homes to hire Traci to build your dream tiny home.