Yessi and Bobby live in a beautiful 15-foot-wide park model tiny home on 5 acres in the Texas Hill Country. Fortunately for them, there are no legal obstacles to doing this in their small town. That's why they felt confident investing in their tiny house and homestead property.
As they'll tell you, luck breaks and smart financial planning have made a world of difference in making this all possible. 
"Our parents said, well, you can have a big wedding, or you can put this towards your first home. So we decided to have a very small wedding and ended up getting our first home.

We ended up getting married just at the courthouse. It was probably a 10-minute ceremony. Quick said and done. But it was special.

We were living in a 2,000-square-foot house in Rosanky on 15 acres, and we knew that that wasn't going to be our dream home, and we wanted to build a barndominium. So we decided, or I kind of pitched the idea, well, what if we sold the Rosanky house and lived in a tiny house, and lived there for a couple of years to save money to build our dream home?"

-Yessi & Bobby, @_thehopperhouse
Developing raw land is no small feat. Groundwork and utility installation add up quickly. For example, water well installation alone cost them $24,000. Then their septic system ran a little over $8,000. Additionally, the power company charged about $3,000 to put in a transformer.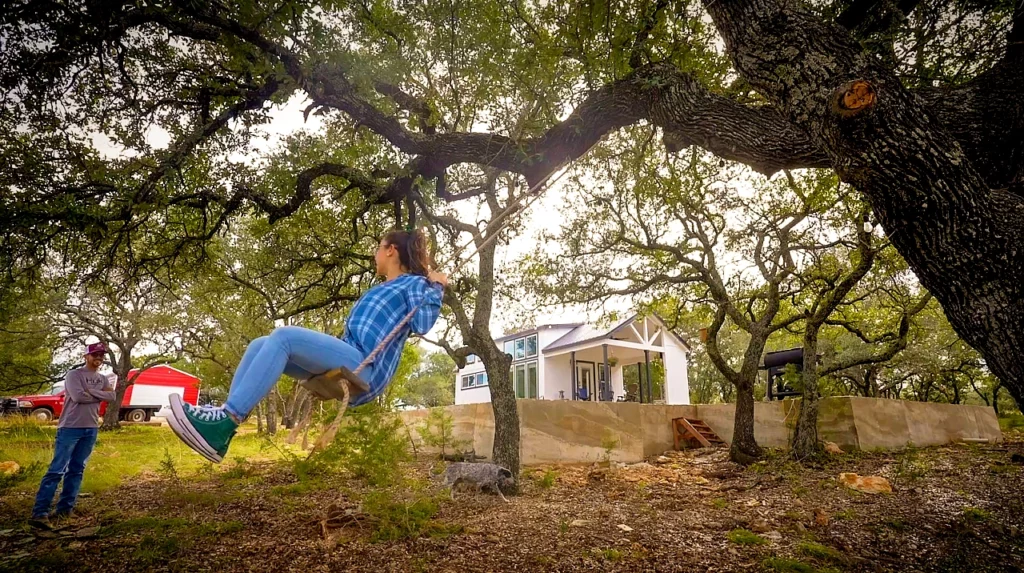 Inside their 15-ft Wide Park Model Tiny Home
That's on top of the $94,000 Yessi and Bobby paid for their 5-acre plot. But they saved a lot of money by doing many projects themselves, like digging trenches for electrical lines. All that hard work also provided a great relationship-building opportunity for them.
Bobby and Yessi bought their lovely park model tiny home from dealer Creative Living Solutions in Bastrop, Texas. It's 26 feet long by 15 feet wide for a spacious-feeling 390 square-foot living space. Further, their sizeable covered porch makes it feel even bigger.
They absolutely love the open, airy feeling of their tiny house. Beyond the extra-width, a series of large windows in the living room bring in loads of sunlight. It's also a great way to enjoy animal watching, from cows to red stags. Bobby built cool floating plant shelves that rotate to take advantage of all that natural light.
Yessi readily admits during the pandemic, she became a houseplant addict. Her collection grew from two or three plants to about 50 plants. Sadly, she did have to downsize her leafy collection a little bit. But on the bright side, she and Bobby came up with creative solutions for displaying them around their tiny home. The rotating shelves are a prime example.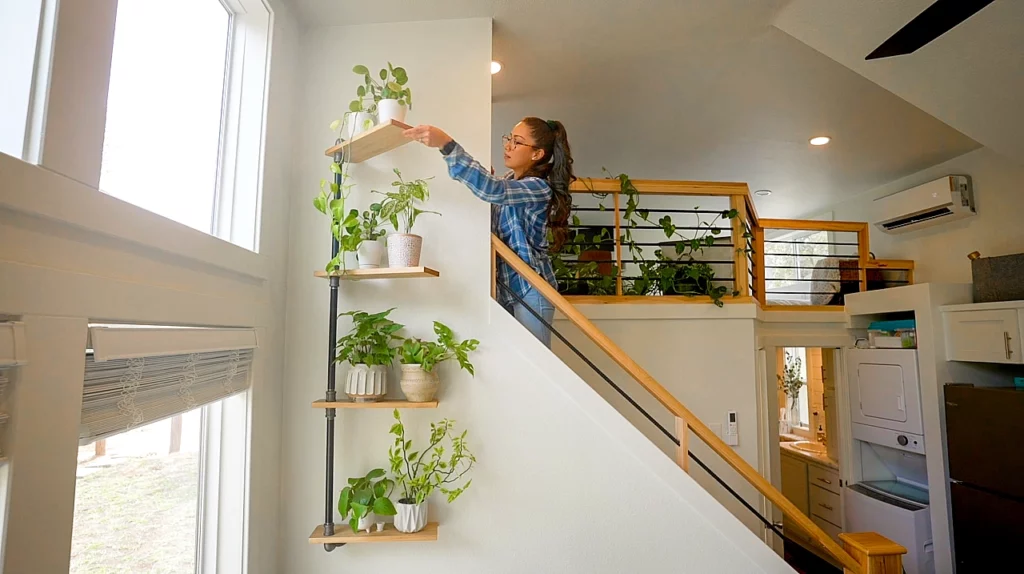 Exra-wide tiny homes help tremendously with furniture placement. For instance, Yessi and Bobby were able to keep their massive flatscreen TV and two big recliner chairs! On a more practical note, they could get mostly full-size appliances and a sizable island for their kitchen. This is perfect because they love to cook, hunt, and garden.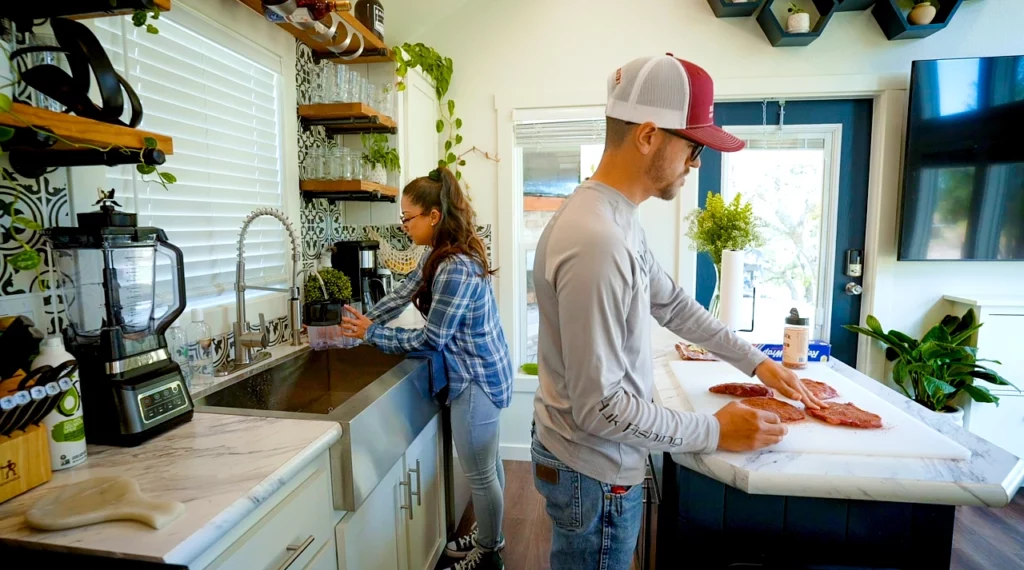 Ample room for a main suite bedroom is another top benefit of their 15-foot wide park model. It features a king bed, along with his & hers closets. Additionally, it has private access to the connected bathroom with a bathtub.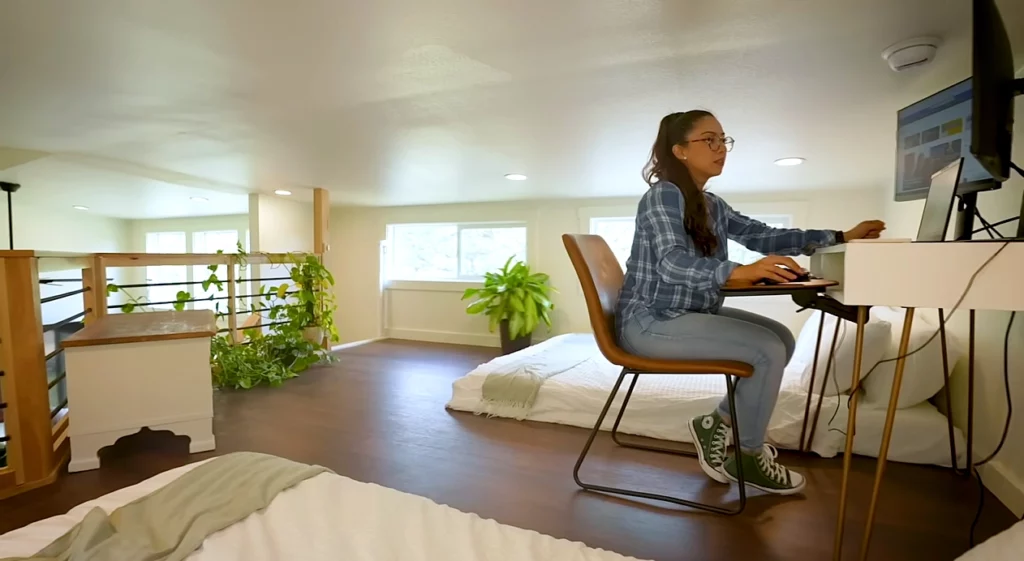 Their loft serves as both a guest room with two queen beds and a home office for Yessi. Impressively, she can sit at her desk without hitting her head! Scenic views out of the upstairs windows make this a tranquil place to work.
Tour their park model tiny home on 5 acres!