Special educator Nikki lives in a unique tiny house with a standing loft. It has a practical layout with distinct living spaces that easily accommodate her three large dogs and working from home. She loves her home, but there are still things she would change.
"I put a lot of thought into my home, and there are still things that didn't work for me the way that I thought they would. I thought a lot on the layout but not as much on light fixtures or where outlets were. And some of those things really matter in a tiny house and how you set up your furniture.

I also didn't do built-in furniture because it was less comfortable, as what a lot of people had given me feedback on. And I think that was a good move, but then you really have to think about what furniture you're bringing into your home as well and how that's going to work with your space. Something also to consider is that smaller appliances don't mean cheaper appliances.

-Nikki, @nikkigoesonanotheradventure
Her Unique Tiny House with a Standing Loft
Nikki's beautiful, unique tiny house was built by NOMAD Tiny Homes, based in Dripping Springs, Texas. It's built on a 43-foot gooseneck trailer and comes to approximately 356 square feet. Thanks to the many windows, it has abundant natural light throughout the entire home. That's perfect for Nikki's extensive collection of indoor plants!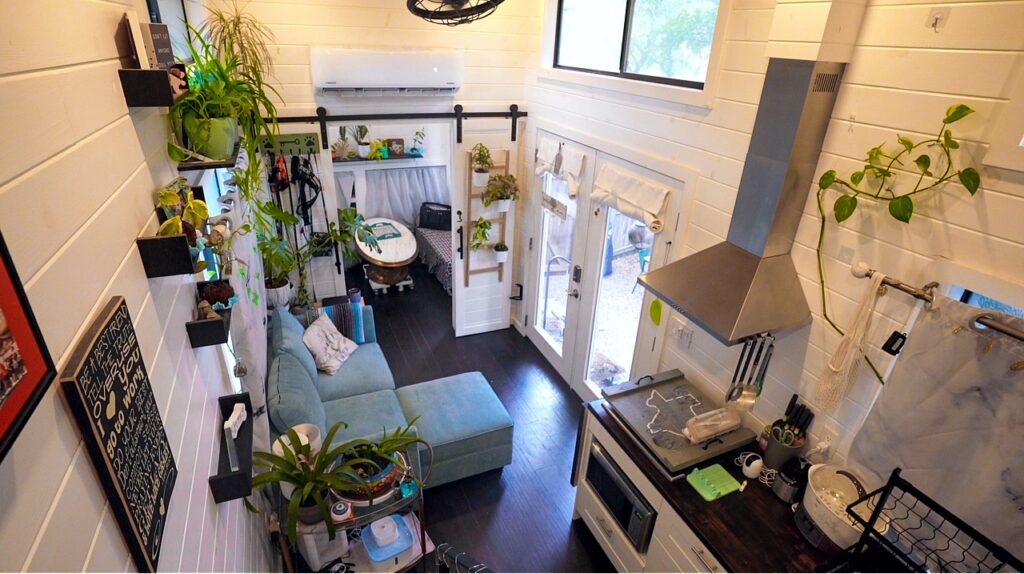 Gooseneck tiny house trailer foundations can almost always accommodate a standing loft. Nikki really enjoys her standing-height bedroom that feels tucked away and private. On the other end of her home, she has a second sleeping loft that's roomy enough for a queen bed and dog bed. A multifunctional privacy screen provides book storage while creating a sense of separation from the living room.
Additionally, there's a downstairs home office/dog room. Nikki could easily make this a third bedroom if needed, and this flexibility is a big part of why this tiny home is so unique. And it would be semi-private! On one side, a sliding barn door separates it from the living room. A small door could be installed on the other side with access to the gooseneck loft. The dogs enjoy sleeping cubbies and access to a dog door to go in & out into the yard.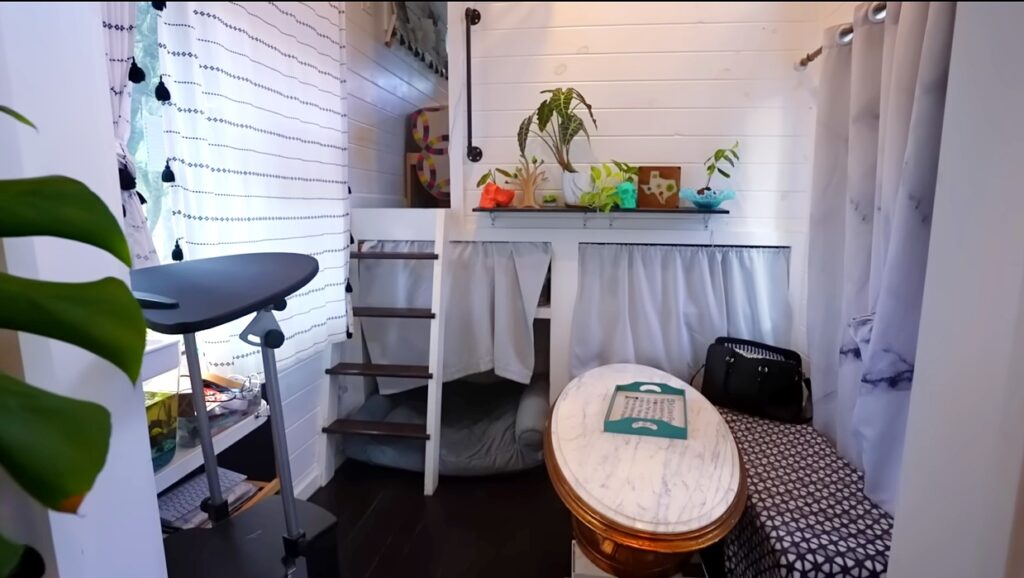 The extra-long length of Nikki's tiny house means enough room for both a spacious kitchen and a bathroom. Her bathroom is particularly impressive for its functionality. A compact stackable washer/dryer sits across from the large wardrobe. When clothes are dirty, Nikki throws it right into the washer—no hamper needed.
Watch the tour to see more of her unique tiny house with a standing loft!