Despite limited square footage, under 300 sqft, Denise built a robust business from her home design studio space. She simply pulls out and folds up her table to create a large workspace. Then, she moves over two wooden stools for seating. These also double as sofa side tables.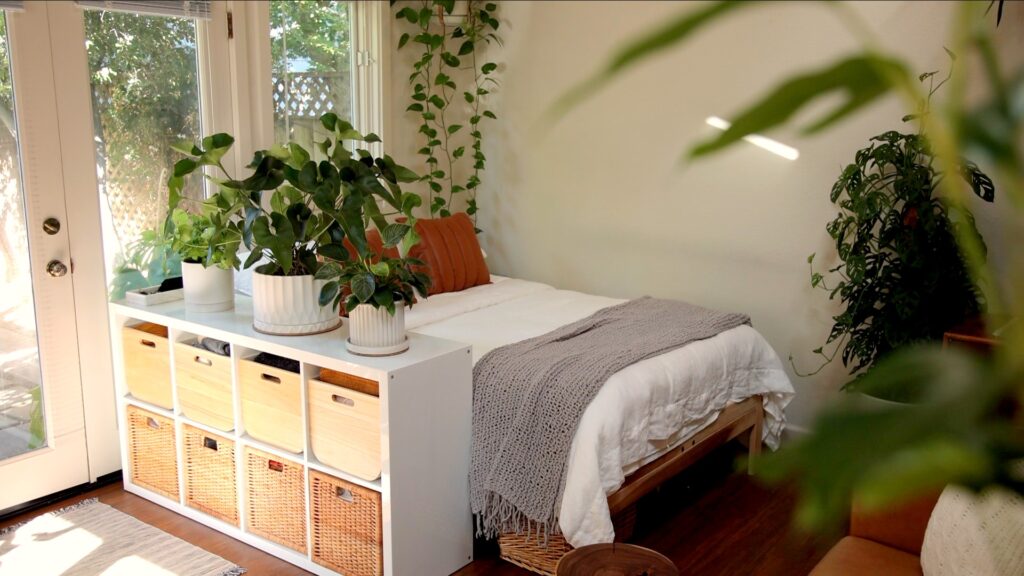 "It's convenient because there's less to clean. I like keeping a clean home. In terms of being a busy designer and a busy maker, if I lived in a larger space that required a lot of maintenance that would be incongruent with my lifestyle."
Fabric and yarn are cleverly stored throughout the house. For example, Denise utilized an Ikea shelving unit to store many of her knitting supplies in decorative baskets. She turned it on its side to create a pony wall to create a sense of separation from her bed area. Potted plants sitting on top soften the hard edges between the spaces.
The lush greenery in and outside Denise's tiny home ADU creates a truly vibrant space. Her plants act as decor that also improves the air quality of her small space. No matter where you stand in her tiny home ADU, you see greenery. And her large windows and glass doors help bring the outside in. While her shaded patio doubles her living space!
See Denise's work on Bayron Handmade, follow her on Instagram, and check out her new Skillshare course!