Meet Sara and Joel and their light and airy, beautifully efficient $35k DIY tiny house. Over two years of weekend building, they built their 26-foot THOW with an incredible DIY Murphy bed and storage for days. Impressively, they earned substantial build costs savings due to doing all the labor themselves and hunting for deals on Craigslist and Facebook Marketplace.
$35k DIY Tiny House Features
Every inch of this incredible $35k DIY tiny house was maximized while not sacrificing on a few luxuries like a bathtub. Sara and Joel's home is 26-feet long and 9.5 feet wide. An extra foot of interior space made a huge difference in creating an open feeling while providing ample space for their Murphy bed and bathtub. They also added an 8-inch bump-out for their main door that created a lovely little entryway. It has just enough room for coats and shoes, acting as a much-appreciated mini mud-room for their tiny home.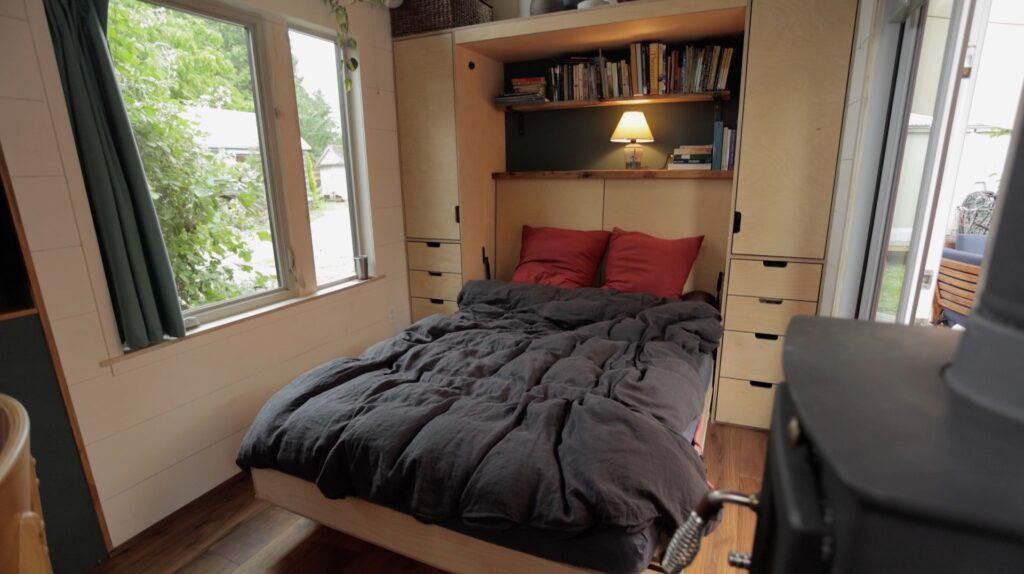 Their tiny house features a Muphy bed to provide a luxurious amount of headroom, his and her closet space, bookshelf, and nightstands. Sara and Joel also took advantage of the 6-8 inches behind the headboard to create a storage cubby for linens. When it's neatly folded-up, a large open floor space is created for yoga or casual lounging. Beyond all that, another top benefit is no need to make the bed!
In place of storage stairs, Sara and Joel created a home office under their open staircase. They didn't anticipate the pandemic, like the rest of us, but Joel's been so grateful to have a comfortable desk space (complete with an actual office chair!) to work from home the last year and a half.
Behind the office is their super-efficient kitchen, from the creative storage solutions to a foot pedal for turning off the water handsfree while doing dishes. Up top, they went with a floating dish rack and open shelving to maintain the airy feel in their tiny house.
"One of the things we really designed a lot of the house around was having kind of a kitchen island that we could sit at. We found in previous houses we've lived at that's where we tend spend most of our time whether its eating breakfast, hanging out with friends, or doing crossword puzzles.

We tend to sit here a lot and wanted to make a lot of space for that. And also prep space for cooking; we do a lot of cooking and some baking. We jsut wanted a lot of counter space and also space to spread out to do projects and all kinds of things. This is kind of the heart of our house and has been in most houses we've lived at."

-Sara, Project Shortstack
Watch the tour above to see their $35k DIY tiny house and all its rad features in greater detail!