The Suite Spot River model is a small container home built with two 40-ft shipping containers built by Relevant Buildings. It also features two "bump-outs." All in all, this is a fantastic layout for comfortable living in under 700 square feet.
Inside the Suite Spot River is a modern, open-concept layout. In the same large space, you can find a spacious living room, a fully-functional kitchen, and a comfortable dining nook. Down a short hallway, you'll find a full-size bathroom and utility room. It's currently for laundry but could easily be used as a home office or hobby room. There's plenty of space for a stackable washer/dryer in the expansive walk-in closet in the bedroom.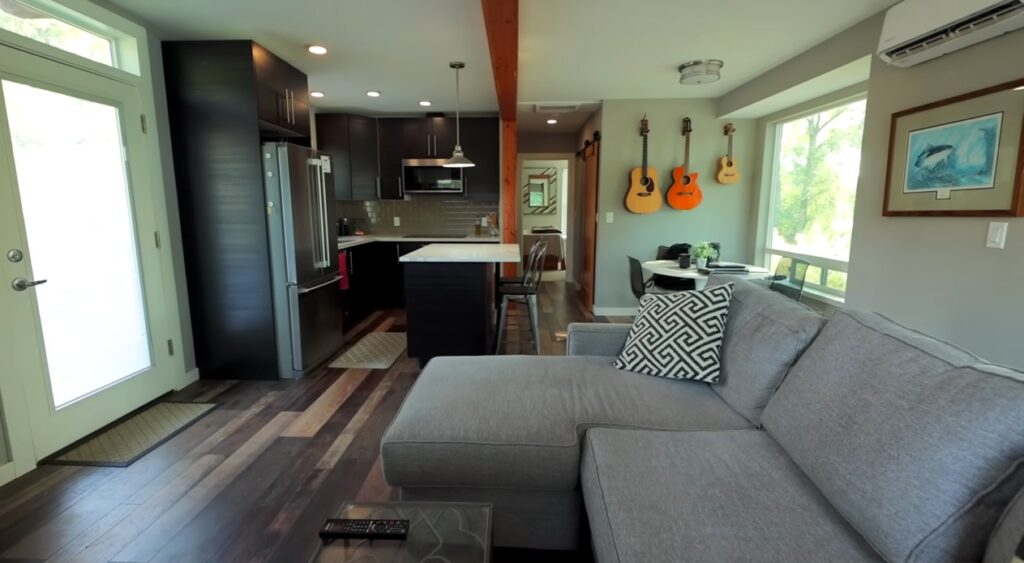 Another idea is to turn the walk-in closet into a home office and add a wardrobe in the bedroom for clothes storage. Then the utility room could be a kid's room. That's what we most appreciate about this small container home—the layout flexibility and the comfort & convenience that 650 interior square feet provide.
Again, the Suite Spot River is made from two separate 40-foot containers. The two bump-outs create a little architectural dimension on the exterior. On the interior, they allow more room to walk around the dining table and to create a large bedroom closet.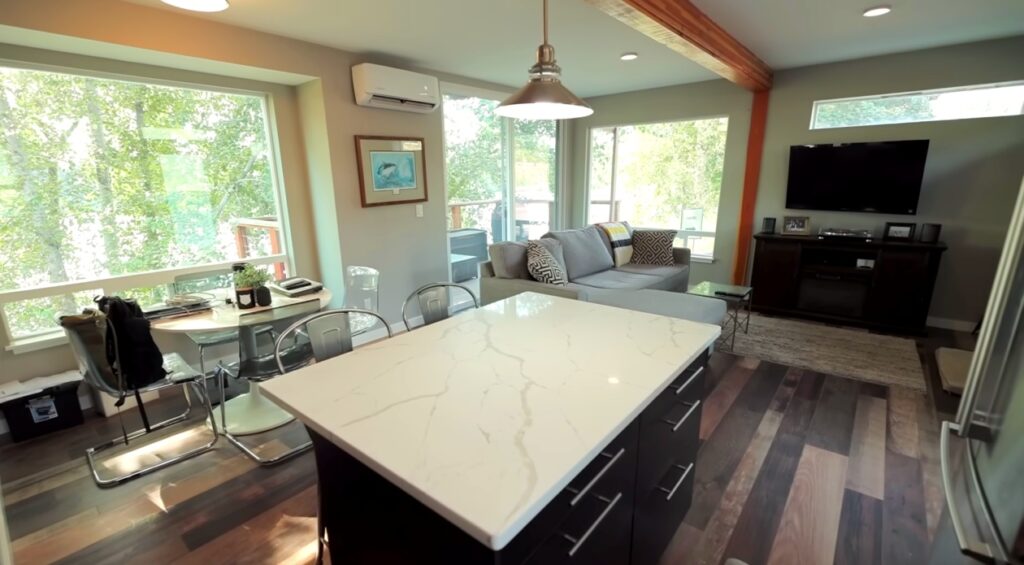 In the tour above, the model has canopies over the front door and back deck that offer some cover from the elements. However, several different roof types can be added. Additionally, this one showcases the rustic industrial charm of a raw container. Relevant Building does offer many different paint colors.
Like all their shipping container homes, the Suite Spot River can be permitted as a residential home in multiple states. It's a multi-step process. Relevant Buildings CEO Carl shares insight into the permitting process at the state & local levels:
"The Relevant Building Company gets its permits from the state, typically. We're recognized as a prefabricated structural builder. So if somebody came to us and said they want to buy this house, which is the Suite Spot, we would typically look for that to come on our website. It's the place to fill out the information, tell us about yourself, and where it's going.

The building is already permitted by the state. State of Oregon, State of Washington, both have issued permits for this building (the Suite Spot). And that permit lasts us a year. Each year, we have to renew it. But each year, we can build it as many times as we want to that year.

On-site, however, there has to be a permit for the foundation of the utility hookups. So that is something that we provide the service to acquire, but it's not part of the state permit because it's a local requirement.

So since we built this model, which was one of the first models we built, we have modified it multiple times for people. We've got maybe 20 or so different models that we've got permitted with the State of Oregon now."

-Carl, Relevant Buildings
Watch the Tour of this 2x 40-ft Small Container Home!