TruForm Tiny, based in Eugene, Oregon, builds stunning tiny homes, from luxury park models to more compact budget-friendly tiny houses on wheels. Co-owners Malia and Jen's passion for their work manifests in an extensive design/build process. They also prioritize high-quality materials and construction methods. As you might imagine, that's reflected in the higher price points of their homes.
"I've always loved interior design, and I don't know why I'm not an architect because those two brains equal architect. Now with our tiny home business, I'm kind of an architect. Jen plus me equals an architect because I have the design and the aesthetic and the spatial, and Jen has the, 'how can we actually pull this off and build it?'

Also, our backgrounds are living tiny. We both lived tiny. We lived in ecovillages and intentional communities."

-Malia, TruForm Tiny CEO & Creative Director
Building Stunning Tiny Homes
Malia & Jen share a step-by-step breakdown of their building process from start to finish. It begins with a customer choosing one of TruForm Tiny's two design/build pathways. Option one, choose a predesigned model that you can customize through their online "Design A Tiny Home" builder. Alternatively, embark on the fully custom route.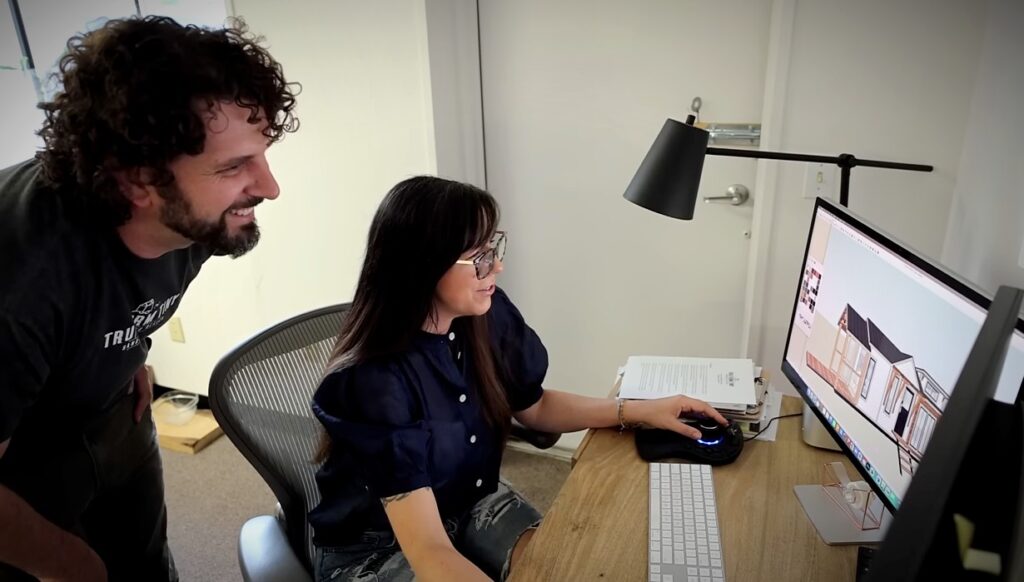 Step 1 – Tiny House Design
If a client chooses a fully custom tiny home, Malia takes them through the design process. Over Zoom, she can share 3D models of various layouts. Then try out different colors and finishes on your model. This helps tremendously to see how the space actually looks in three dimensions.
Choose from Truform Tiny's main design styles—country craftsman and modern urban. Even with similar floorplans, implementing these two aesthetics makes them look different stylistically.
For instance, the modern utilizes cleaner, straight lines, smoother surfaces, and more minimalistic. They play with shapes more, so there's little less symmetry with window placement. Also, they opt for either a clean shed roof or a funky-hipped roof design.
In contrast, the craftsman style is more quaint and classic. TruForm uses heavy trim work and exact window symmetry. Further, gable roof lines and dormers are the standard.
TruForm helps customers determine which size home is best for them based on your needs. They offer towable tiny house travel trailers or larger park models. The latter can be wider, longer, and even taller with the proper permits! If you have a licensed and insured transporter, it's not a problem.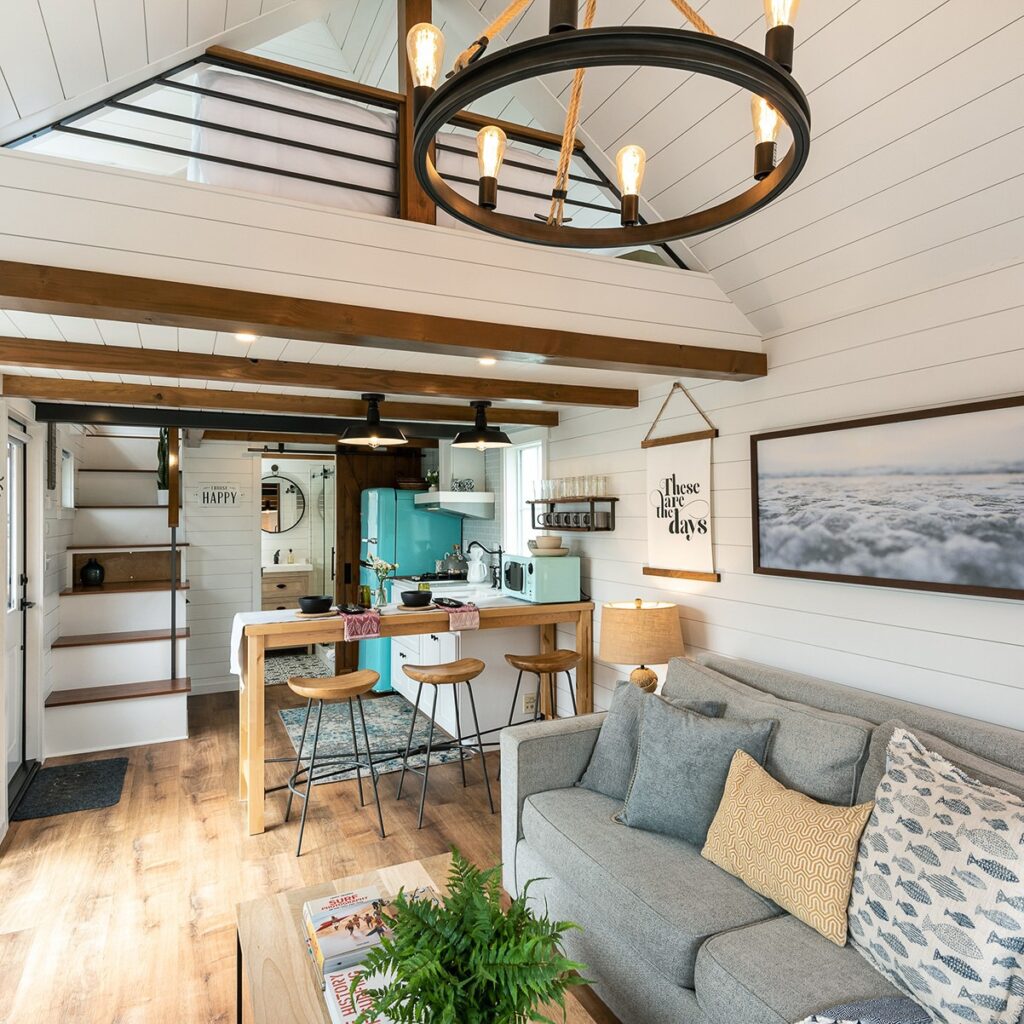 "I come to him, and I say, can I do this? Is this possible? Can I build it like this? And he'll say, well, you're going to need a massive beam from here to here. Or something that's just like, whoa, OK. I totally didn't realize it.

From a contractor perspective, having good design is huge. I like being involved in design decisions, and I have two cents. But having Malia drive this direction of this design, it's really what makes us us.

The craftsman component is key.

But without that first step of getting a good design, smart design, well thought out, so it feels good and looks good."

-Malia & Jen on the importance of good design in tiny house building
Step 2 – Trailer Subfloor
Trailer prep comes after finalizing the design and plans. The overall size and number of axles vary depending on the client's selection. Right away, they insulate the floor with 3-inch rigid poly iso insulation.
In the above video, you can see how they attach their wood framing to the steel trailer.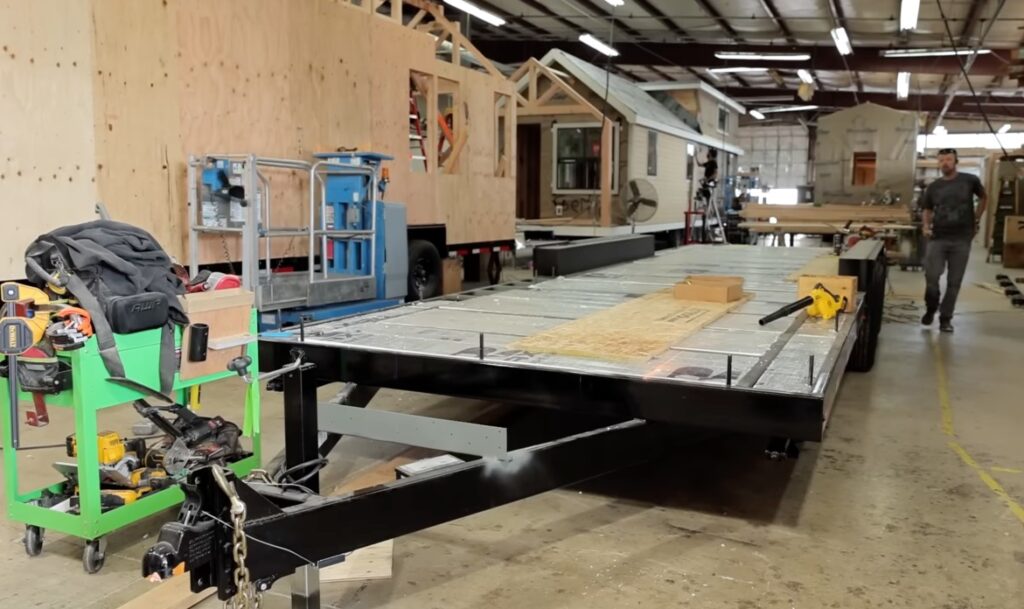 Step 3 – Framing
Next, the tiny house trailer moves to TruForm Tiny's framing area. Here the structure goes up very similar to residential construction techniques. The walls and the roof go up in about seven days in total. Sheathing and window installation take place next.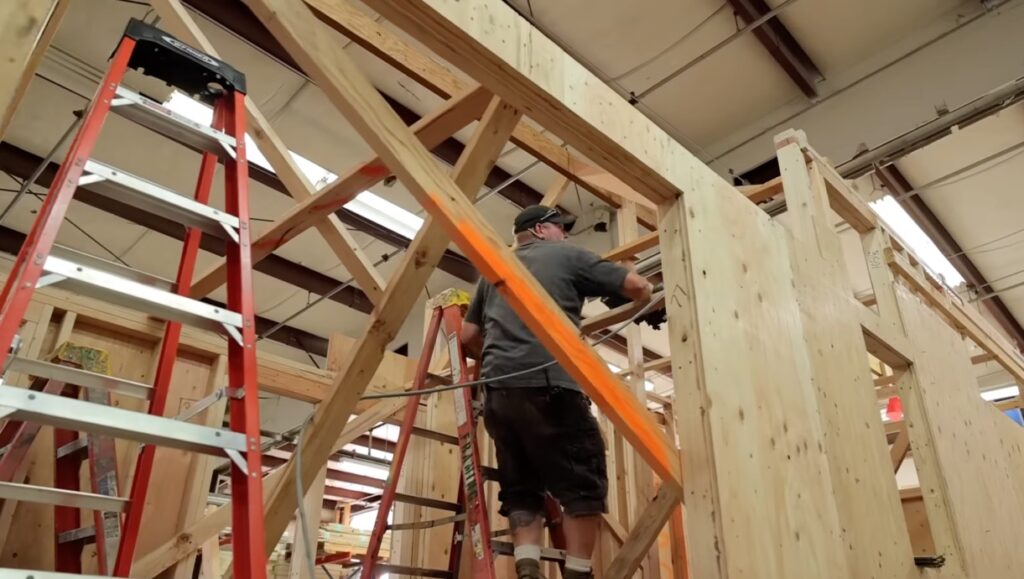 Step 4 – Exterior Envelope
Then the tiny house shell now moves to the exterior envelope stage. Here TruForm goes the extra mile to ensure it's sealed and protected from the elements. This includes the use of a durable, premium building wrap. Because you absolutely do not want any water getting in, which can wreak all kinds of havoc in tiny homes.
Next, siding installation takes place. Customers can choose from various sidings types, from shiplap, shakes, board & batten to more modern paneling products.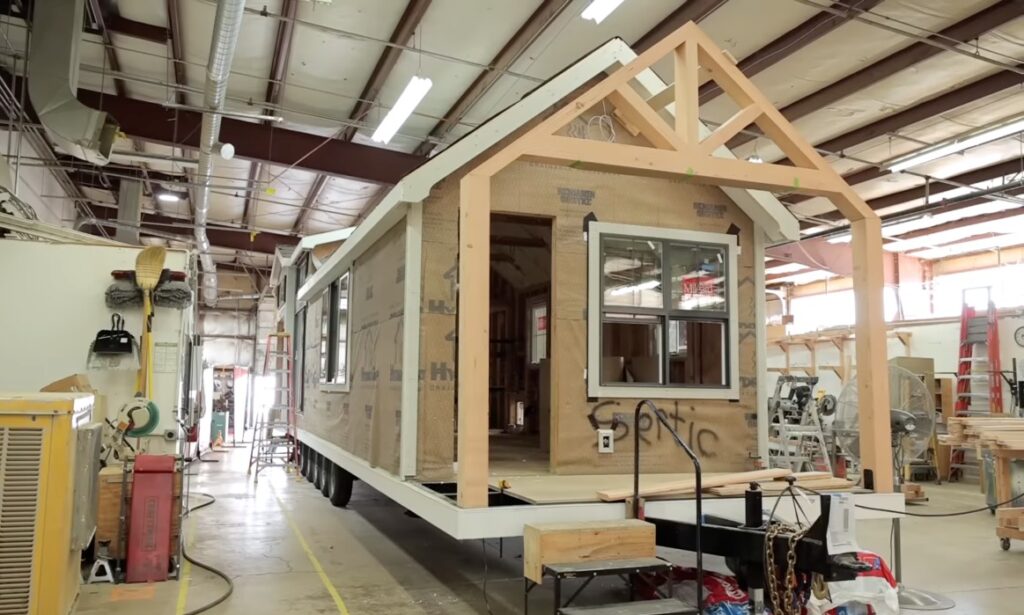 Step 5 – Rough-In Utilities & Insulation
Meanwhile, the utilities get installed, including running electrical and plumbing. The next stage is spray foam insulation. TruForm puts this on all their ceilings—3.5 inches deep. Then they insulate the rest of the interior.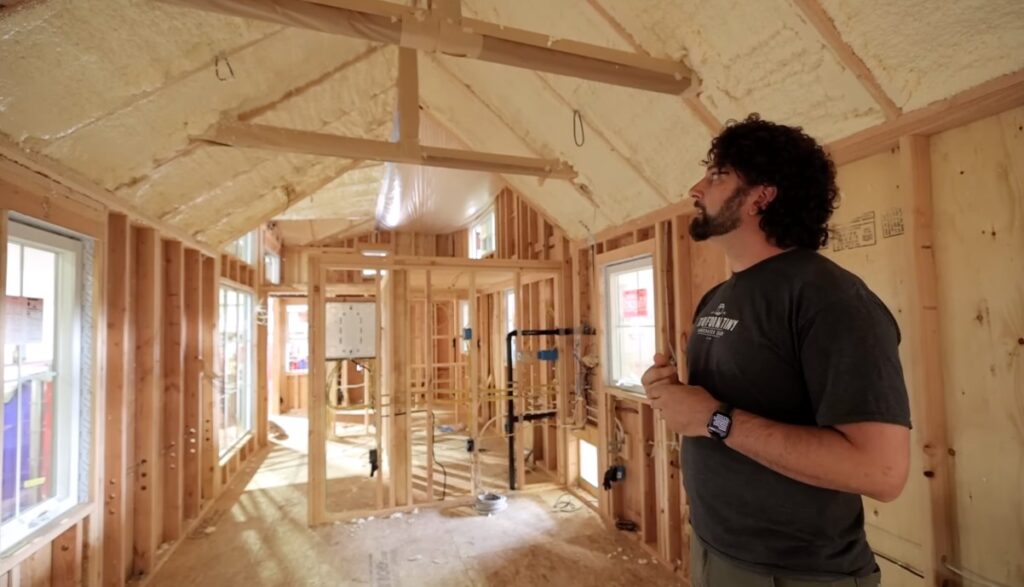 Step 6 – Interior Finishing
Next up, the TruForm team puts wall and ceiling boards. The window trim, caulking, and painting take place.
After that, they dive into the numerous steps involved in the interior finishing process. For example, storage stairs with railing installation. Kitchen cabinets, countertops, and backsplash go in as well.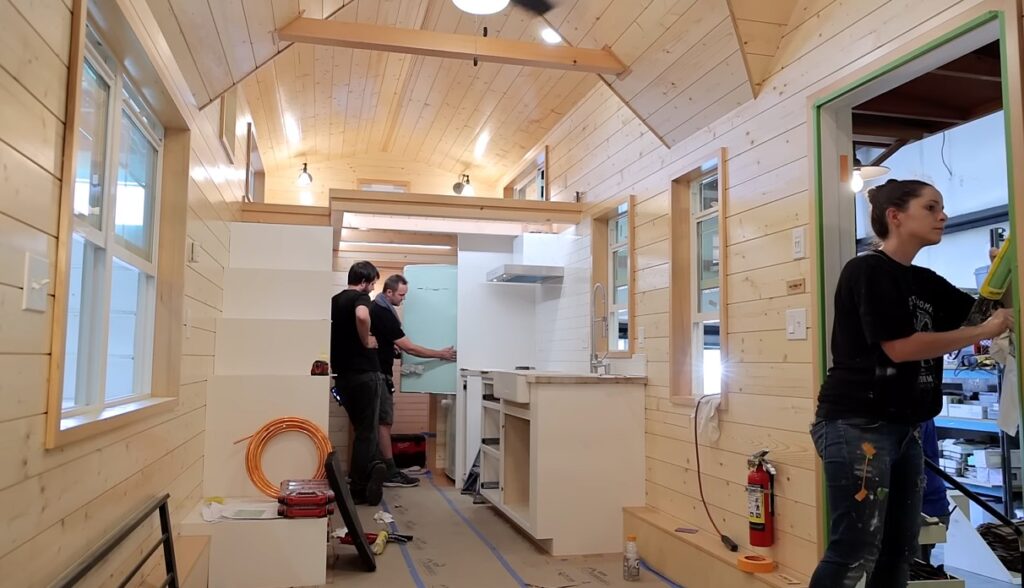 Challenges of Building Stunning Tiny Homes
Of course, the above tiny house-building steps are just a brief overview of what goes into the entire process. A successful process from start to finish requires harmony of design and construction techniques to create high-quality, stunning tiny homes. Truform Tiny's Jen and Malia argue that it takes knowledgeable craftspeople to efficiently solve problems on the spot and develop standardized techniques to address them moving forward.
Further, they share that despite the smaller scale, a tiny home must still fit in all the different components of any size home. Creative storage solutions must also be implemented. Then you must ensure that it all works functionally while maintaining an aesthetically pleasing look & feel.
Sometimes finding a solution for one key element in a tiny house leads to cascading effects across the entire structure:
"Like where do you put your water heater? Does that work for all the units? Yes, great. Can it allow for that water heater to interface with the outside? And we put in a lot of on-demand water heaters, so it has to have proper venting.

Then that can impede on the design, and sometimes we have to say, oh, well, we can't do that because we want it to be successful.

We call it the tiny home one-inch factor.

One thing changes, just half an inch or something, and it changes everything down the line. One inch could mean a complete redesign of the whole tiny home.

It's amazing; it's like, OK, now this just doesn't work. I feel like I have to start over!"

-Jen & Malia, TruForm Tiny Co-Owners
Watch to learn more & tour their new stunning Park Model Tiny Home with ground floor bedroom!