Meet Peggy and Colleen, a retired couple who live in a 20′ tiny home in the beautiful Tiny Tranquility on the Oregon coast. They love downsized living in a community setting, where they want to age in place. Interestingly, their neighbors are mostly all older women too. They support each other and appreciate their shared decision to embrace tiny living on their own terms.
"I also think women, I'll say from my generation, kinda lived the traditional life, you know..and you're just ready to say that stuff is not important to me anymore. Or the kids are gone and I don't need the space. And just make life simpler.

And still at this point with tiny houses it's still kinda of adventurous and brave to cut ties with all your stuff and go tiny. I look around and I'm thinking a lot woman I know here already are adventours and brave. They just took the leap and did it.

…I think a little bit of it is it's my time."

-Colleen & Peggy
Peggy and Colleen's tiny home is now for sale, but not because they don't enjoy the lifestyle. However, they've realized that a 24-foot tiny house would better suit their needs with a large Greyhound dog.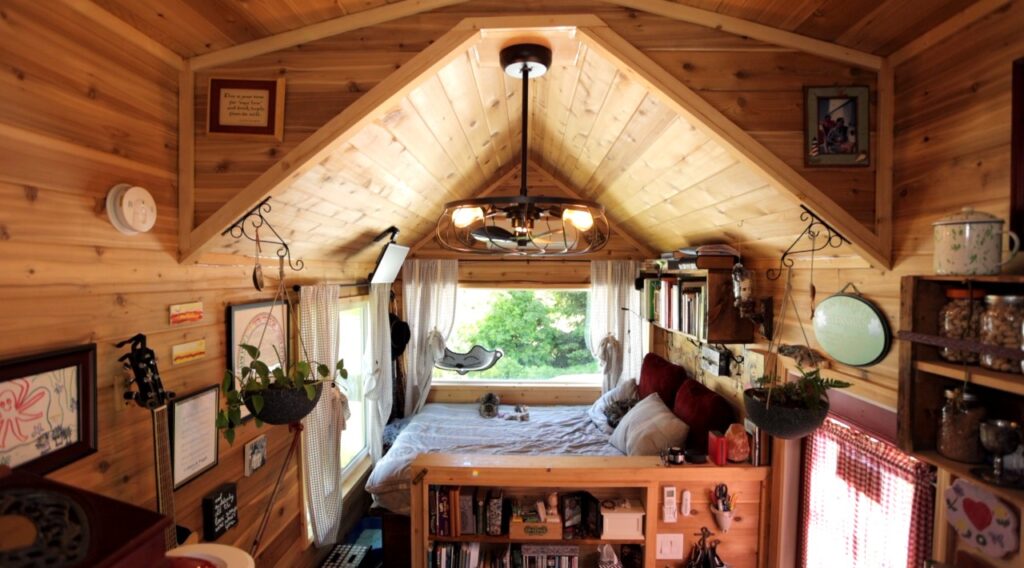 Their charming certified tiny house on wheels was built by Pacifica Tiny Homes. Originally, it was designed with limited mobility issues in mind with a non-lofted bedroom. Although, a storage loft is included, which is accessed by a ladder.
Tiny House Special Features:
raised platform bedroom, up just a few steps
vented convection oven/microwave
indoor/outdoor accessed cat litter box cubby
storage stairs and built-in bookshelf
substantial hanging clothes closet
Since the tour was filmed, Peggy and Colleen have made a few upgrades, "We've added some matching white cabinets above our kitchen sink area for more storage and having a flush toilet installed. Also moved our rolling pantry between frig and closet to make more room on the main floor."
Asking price: $70,000 or best offer
While it's parked in a wonderful tiny home community, their lot is not included in the sale. If desired, potential buyers can get on the waiting list for another spot at Tiny Tranquility.
Interested in buying their tiny home for sale? Contact Colleen at beachcoll@gmail.com.