Fun-loving couple Erika and Clint live in a gorgeous vintage bus tiny home on their homestead community in Texas. They fell head over heels for a 1977 Crown bus with its curvy roofline and curved sidewalls. But that made the conversion and roof raise challenging. They prevailed, but it took much longer than the 3 months they originally anticipated. In total, the build lasted 18 months.
At 36 feet long, their vintage bus tiny home is quite spacious. Erika's professional interior design experience really shines through in their material choices, colors, and layout flow. Bright pops of color and lots of light create an inviting, airy look & feel throughout their small space.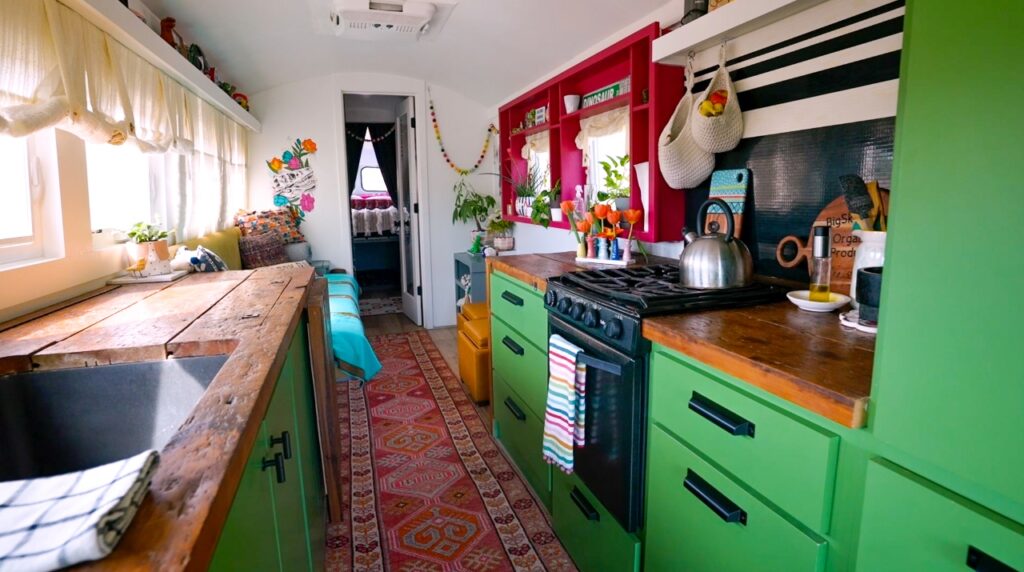 A roomy, functional kitchen was a top priority for Clint, who loves to cook. Food has been a huge part of their relationship as well. So, they made sure to create a huge pantry and heavy-duty drawers to store cookware and appliances. To create extra workspace, they added a flip-up leaf at one end. This creates a U-shaped counter for easy food prep. Also, their countertop is made from gorgeous reclaimed wood.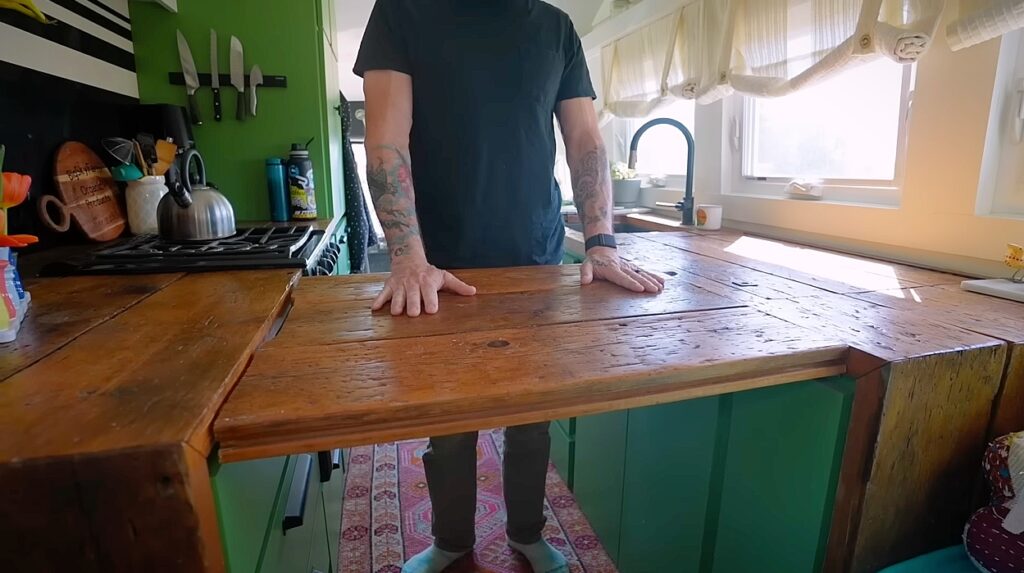 One of their favorite design features is the LEGO backsplash. It's made from a whopping 3,400 pieces of LEGO sourced from dealers around the US. Not only does it look cool, it's lightweight and easy to clean.
Their bathroom artfully blends function and beauty. Gorgeous geometric blue-green tile lines the shower, all three walls, and even the behind their built-in vanity. They bought planks of PVC to construct their vanity. The whole cabinet is waterproof, as a result. Further, it protects an electrical outlet hidden in a drawer from water.

Erika and Clint bought an 8-acre homestead near a small airport. As longtime skydivers, close proximity to a skydiving dropzone made this property a dream come true! They've transformed into a mini-farm and tiny home community.
"My grandparents have a farmhouse up in Michigan that my grandma had lived in… Any time somebody needed something, they went and lived on the farm, whether it was for a week or a couple of years. But that's where you went to reset your life. And so I wanted that. I wanted to create a place where people needed to just recharge or just needed something or just wanted a simpler place to live so that they could come to our farm.

So we put in some RV slots because we were putting in a lot for our bus. It has a little house on the property, and slowly, we started renting out all the slots in the house. And they're all skydivers, so we know and love them all. Most of them work over there.

It's amazing. Everybody helps out. So we have a group chat, and we can say, hey, we forgot to do something. And somebody immediately is like, 'I got it. I'm on it!'

We'll get home from work, and somebody's mowed the lawns, or somebody fed their chickens. It's just a really cool little community that we've got here of people that will keep to themselves when they want to and be part of a real fun, kind community."

-Erika & Clint, @bigskybus
Watch the full tour of their incredible vintage bus tiny home!