Remember if you plan to build a tiny house (or have one built), you should design your kitchen around the appliances you plan to use
—
whatever they are.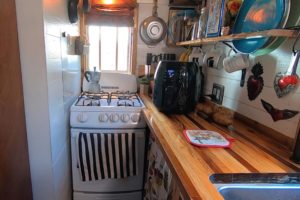 Home cooking is an everyday occurrence for us. In fact, it was a top priority when designing our floor plan. We designed our entire tiny house kitchen around our apartment-sized range (oven/stove combo).
The benefits of our range as a tiny house appliance: 
low energy requirements—it runs propane with electronic ignition
cute as a button and compact in size (half the size of standard range)
can cook a wide range of foods via stove, oven & broiler compartment
The primary downside is that the oven makes the tiny house quite warm, even with the fan on and window open. Not something we want to use in the summer.
In comparison, the air fryer doesn't generate exterior heat. So, w
ith limited tiny home kitchen storage space is an it a worthwhile appliance?
Recently, we gave the Avalon Bay Air Fryer a try. So of course, we had to make french fries to save how the "oil-less" version compared to the full greasy kind. What we learned along the way is that there's more than meets the eye to this nontraditional kitchen appliance. And bonus, it's inexpensive at only $57 on Amazon.
After our limited initial experience with the air fryer, we think it's an incredibly versatile, multifunctional kitchen appliance. It is a mini-convection oven.
We think for many tiny house dwellers, an induction cooktop and this compact convection oven would perfectly meet their cooking needs. In fact, I just a tiny dweller who does just that!
This is a small space friendly choice, due to size and lack of excess heat. Additionally, there are thousands of available air fryer and convection oven recipes. 
Keep in mind, it uses 1400 watts, which is a high electricity demand for an off-grid tiny home. So probably best for on-grid homes, unless you have a beefy solar power set-up.