(Fall 2011 – Summer 2012)
My name is Ben Norton. This is my tiny house story. A neighbor of mine was all excited about your blog and showed me lots of really cool tiny houses that people have built. I was hooked. I just said, "That's what I'm going to do," and I just started; buying materials as I had money. I don't think anyone really thought I was serious because I was eleven years old at the time.
Growing up, my parents gave my brother and me skills that many kids don't have. We worked on lots of different projects with real hammers, nails and wood. From an early age I was like a sponge and absorbed all I could about power tools, building, tree cutting, engine repair, and even asking the right people for advice and help. Continue Reading »
by Kevin Mason
I'm a degree qualified engineer and have been involved in a number of industries over the years. I've passed numerous caravan parks in the UK full of static caravans. Basically, I always felt they looked like countryside slums and I always figured I could make something which looked a lot nicer from the outside, but I never had the space or the money to do such a big project. I always loved small whitewashed cottages and felt I could replicate one.
Anyway, nothing happened for a few years until by chance I stayed in a friend's pub on our famous coast to coast walk and he was looking at camping pods to generate some income from his camping field. I now knew people wanted to stay in small houses, at least for their holidays. I could therefore afford to try these out. Continue Reading »
The guys over at One Project Closer have been putting together expert how-to guides by shadowing contractors on actual job sites, and they call these articles "Pro-Follows." If you've ever wondered how a professional contractor would build a concrete patio or finish a basement, check out their website. They only have a handful of Pro-Follows thus far so be patient as they build up this resource. Here are some pictures from a recent Pro-Follow for how to build a shed. Visit that link for the full story, and if you like what you read, consider subscribing to their feed.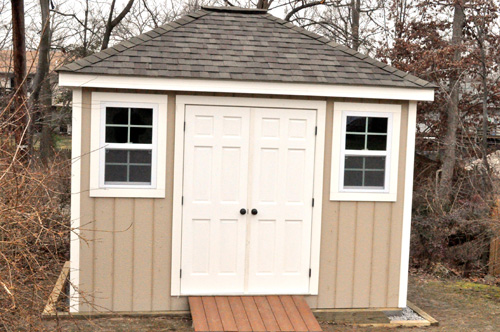 The Foundation
The foundation was built by digging out a space a few inches larger than the shed, and lining the perimeter with pressure treated 4×6′s. Next, they set 10 columns of concrete block on undisturbed ground and back-filled the area with crushed stone. This type of foundation allows them to set the subfloor directly on the concrete block and provides an exit path for water and moisture. Continue Reading »